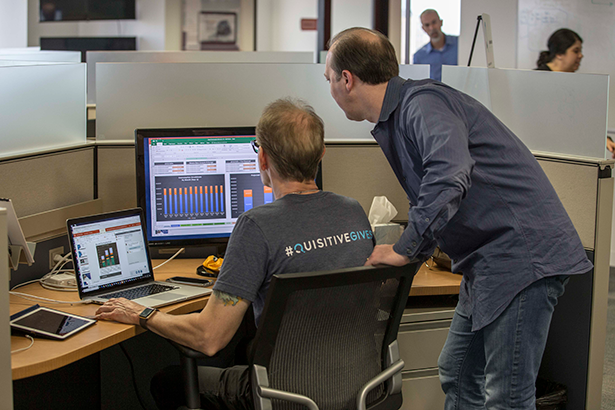 Data is at the heart of every business. But businesses are deluged by tremendous volumes of data and are just beginning to understand the tools to access and make use of the data at scale.
It's why we approach data and analytics from the ground up.
We believe that by harnessing the Microsoft Azure data platform, you can establish a secure foundation, ensure you've got the right data capabilities in the cloud, and gain more meaningful and valuable insights for your organization.
We have extensive experience and expertise in both strengthening your foundation and defining the scenarios to help your organization achieve success, and can help you move operational data, clean it, enrich it and model it for fast, logical and insightful analysis.
We bring to the table years of data integration and analysis experience, as well as a deep understanding of functional best practices.
Our process starts with a goal and a plan.
Assessment and planning

We work with you to establish a vision for data within your organization. What do you want to achieve? How do you want to use your data and make it actionable? During our data estate assessment we can help you create a proof of value to determine the value of data and analytics within your organization so you can justify adoption and measure success.

Establish governance

We can help you create controls around your data with our governance framework and workshops. This process includes defining your data model, understanding what data will be ingested from which systems, and creating rules around outputs.

Deploy the platform, migrate your data and build a modern data warehouse

We will help you accelerate your adoption of the cloud to best ingest data from multiple sources. Whether it's Dynamics, Oracle, DB2, Oracle Cloud, SAP, AS400, QAD, PostgreSQL, Maria, MySQL, PeopleSoft or Salesforce, we will help you connect your data sources within the cloud to perform rich analytics.

Activate and access analytics

We'll help you get into a rhythm of defining scenarios, building models, and creating analytics reports and dashboards, so that you can access valuable insights that deliver positive outcomes for your business.

Managed services

You've moved your data to the cloud. Now what?

Quisitive's Cloud Managed Services continues your data journey in a predictable, monthly subscription model. Through continuous use case execution, MDS provides rapid business value by following the same methodology and approach laid out in the first 30 days. Additionally, your managed data services subscription includes the operational support needed to run, monitor, and manage your services within the Azure Data Platform, giving you peace of mind knowing the day-to-day details are taken care of.
The tools we use
To help you achieve your data and analytics goals, we use the tools that are right for your scenario. We have expertise in:
Let us work with you to design a data acquisition architecture that is maintainable, scalable and robust. We provide end-to-end Data Analytics, from classic business intelligence deployments through analytics applications that reside with your data.
Ready to get started with data and analytics? Get in touch with an expert now.
Learn more about our On-Ramp to Azure Data methodology.
See how the right foundation led to innovative uses of data and analytics for Massanutten Resort.