Toronto, ON – TheNewswire – July 19, 2019 – Quisitive Technology Solutions Inc. ("Quisitive" or the "Company") (TSXV:QUIS), a premier Microsoft solutions provider, was recognized in three specific areas over the course of the Microsoft Inspire 2019 Conference, held July 14-18.
The Company was publicly celebrated by Microsoft as their 2019 United States Partner of the Year, an award announced prior to the conference for demonstrated customer expertise in the Microsoft cloud.
The Company was recognized by the Worldwide Microsoft Corporate Solution Assessment Team as 1 of 5 Finalist for its best practices in delivering value to customers via their Quisitive Azure Accelerator Program.
Lastly, the Company was awarded the Partner Choice award by Microsoft United States Azure Team for helping customers prepare for Microsoft SQL and Windows Server end-of-support.

Microsoft Inspire brings together thousands of Microsoft partners from more than 130 countries to connect, learn and collaborate. The conference served as an incredible platform to drive Quisitive brand awareness and educate Microsoft teams on the Company's dedication to helping customers move, operate and innovate across Microsoft Azure, Microsoft Dynamics and Microsoft 365.
"Seeing the recognition of the Quisitive brand throughout the Microsoft Inspire conference was phenomenal. It is the focus our employees have every day helping our customers move, operate, and innovate in the Microsoft Cloud that made this recognition possible, and for that I am very proud," said Quisitive CEO Mike Reinhart.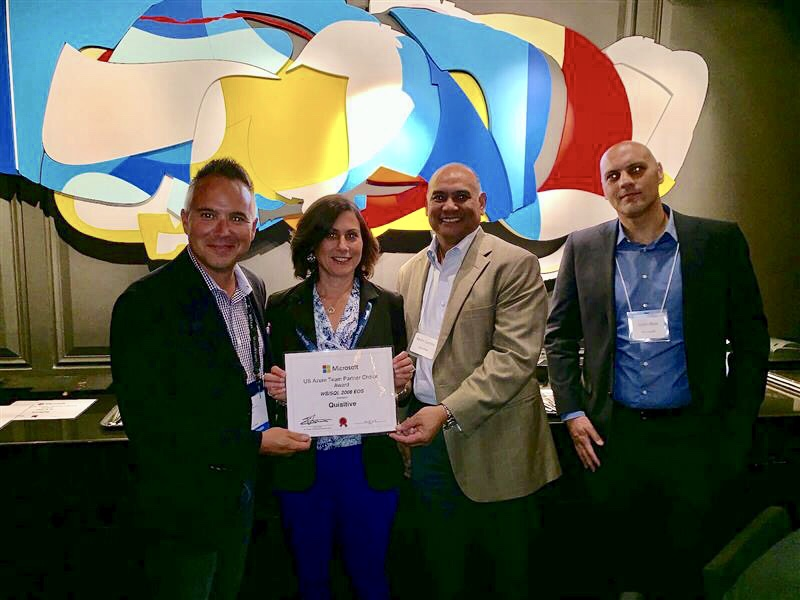 Gavriella Schuster, Corporate Vice President, One Commercial Partner, Microsoft, and Justin Ross, SI Partner Lead, Microsoft,
present the Partner Choice Award to Quisitive SVP Client Services Steven Balusek and Quisitive VP Sales Kevin Castillo.
In addition to the Company's award recognition, Quisitive CEO Mike Reinhart was invited as a panelist and keynote guest during the conference. Reinhart shared firsthand experience and guidance around navigating the right growth strategy through M&A in the 'M&A Done Right' session hosted by Revenue Rocket.
Additionally, Reinhart joined Kate Johnson, Microsoft United States president, and Dave Willis, Microsoft corporate vice president, US One Commercial Partner Group (OCP), on stage for the United States Keynote Session, which focused on partner success traits, customers obsession, differentiation, alignment and culture.
Reinhart joined Casey McGee, vice president of Partner Development at Microsoft, for a discussion around how Quisitive is building the Microsoft Partner of the Future and is empowering customers to achieve desired business outcomes. The conversation centered on the importance of creating value through business outcomes and focused on how Quisitive is leveraging the Microsoft Cloud platform to help customers create new models that improve customer and employee experiences.
"It was an honor to highlight our story on stage during the United States keynote session," said Reinhart. "Microsoft Inspire is all about sharing and learning within this robust ecosystem of partners. To have an opportunity to publicly discuss the influence the Microsoft partnership has had on our business is a remarkable opportunity and it solidifies our mission to be Microsoft's premier solutions partner in North America. The recognition we gained at the conference carried with it a steady buzz throughout the week around the impact we have on our customers as they move, operate and innovate in the Microsoft Cloud."
About Quisitive
Quisitive is a premier Microsoft solutions provider that helps enterprise organizations move, operate and innovate in the Microsoft cloud; Microsoft Azure, Microsoft Dynamics and Microsoft O365. With a legacy of deep technical expertise, Quisitive is empowering the enterprise to navigate the ever-changing technology climate their business relies upon. We help our customers harness the power of the Microsoft cloud and innovative technologies such as blockchain, artificial intelligence, machine learning, and the Internet of Things (IoT) through customized solutions and first-party cloud-based products.
Quisitive is the 2019 Microsoft United States Partner of the Year. Quisitive earned this top honor among a global field of top Microsoft partners for demonstrating excellence in innovation and implementation of customer solutions based on Microsoft technology.
Quisitive is uniquely comprised of former Microsoft leaders and technologists who share a deep understanding of market needs and the appropriate application of Microsoft cloud technology. The company's expertise and focus are on helping industries such as financial services, manufacturing, oil and gas, and retail, drive innovation using Microsoft cloud-based technologies.
Quisitive serves clients globally with offices in Dallas, TX; Denver, CO; Minneapolis, MN; Ottawa, ON; and Toronto, ON. For more information, visit http://www.Quisitive.com and follow @BeQuisitive. TSXV: QUIS.
About Microsoft Inspire
To learn more about Microsoft Inspire, visit https://news.microsoft.com/inspire2019/
For additional information
Tami Anders
VP Marketing
[email protected]