Data & AI Exploration Session
Traditional data and analytics approaches require costly software investments and the right technical personnel.

Quisitive's data and analytics consultants will help answer questions on how to accelerate your data-driven initiatives with cost-effective, value-driving solutions.
Schedule your complimentary session
What is a Data & Analytics Exploration Session?
This virtual session is your first step toward discovering how to leverage your current data to enhance your company's operations and efficiencies. Sometimes questions are left unanswered when researching data, analytics, predictive analytics, AI, machine learning, or data science services.

Quisitive data and analytics consultants can help you clarify the first step in your analytics journey and answer any questions you may have.
Why are data-driven initiatives important?
Unlock insights up to 14 times faster with limitless analytics
Drives more value from your Power BI investment with AI and maintain momentum in the market
Give employees tools to leverage data to expedite decision-making and uncover new opportunities for innovation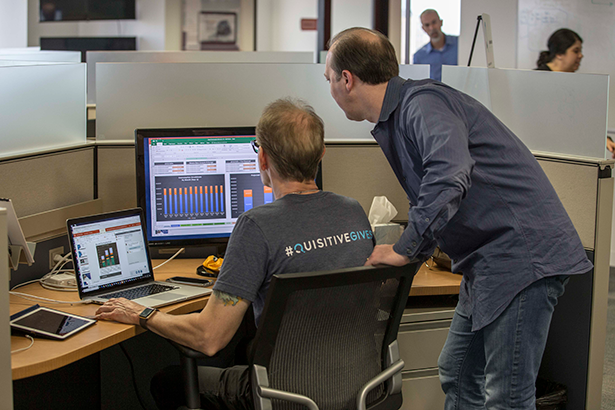 What you'll get from our data and analytics consultants:
1-2 hours with one of our award-winning Data and Analytics Consultants
A clearer direction for the next step in your data and analytics journey.
Quisitive offers a wide range of data, analytics, and AI services, including...
Data and Analytics Consulting
Machine Learning Services
Predictive Modeling Services
"Working with a partner with a prescriptive method that's so well documented reduces our risk… Quisitive met us where we were and brought us to a place [in the cloud] that was higher and more sophisticated."
Database Visualization at Massanutten
Read the case study
Some of our amazing clients.
Schedule a call with a Data & Analytics Expert
Discover how you can harness the power of your data.
Quisitive is a premier, global Microsoft Partner that harnesses the Microsoft cloud platform and complementary technologies, including custom solutions and first-party offerings, to generate transformational impact for enterprise customers. Quisitive has consistently been recognized as a leading Microsoft Partner with 16 Specializations and all 6 Solution Partner Designations. Quisitive's Microsoft awards include the 2023 US Partner of the Year Winner for Health and Life Sciences, 2023 US Partner of the Year Winner for Solutions Assessment and 2023 US Partner of the Year Finalist for the Industrial and Manufacturing vertical.